I get lots of grief when I skip Funaments, and have been told I need to plan better b/c it is same time every year. Well, I just celebrated my 20th Anniversary during 14th Funament, so it's not my bad planning[
]. I will say I'd skip every year for a trip like this.
We stayed at a resort on the Gulf of Papagayo on the North West Coast of Costa Rica. We booked a full day trip with 1 objective; I wanted a Sailfish. The 31' Palm Beach we chartered picked us up at 7 on the beach in front of our resort, we ran the small bay, and then headed north up the cost...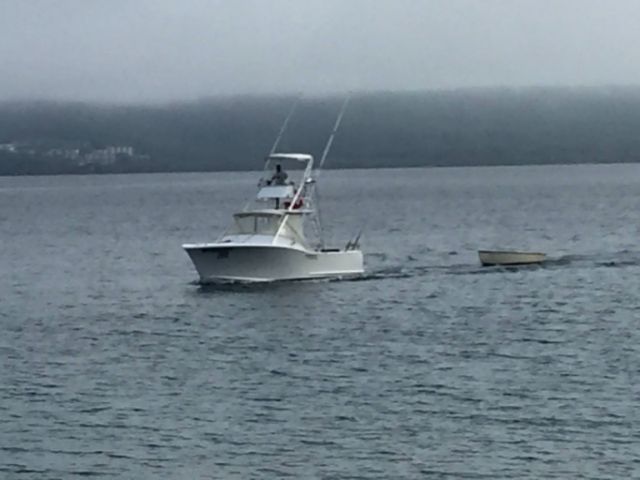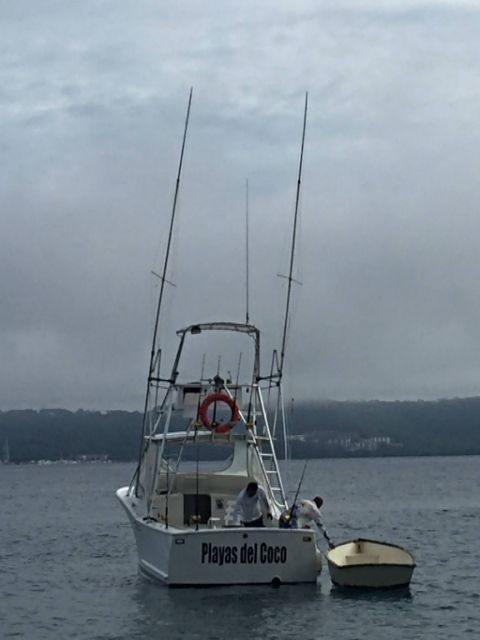 https://imgur.com/a/PlymXtH
(cool video if works)
1st line in the water and we instantly boat a small Mahi. Then before we could get a third line out a reel starts screaming I look up to see big Pacific Sail fly out of the water twice before the loud pop of the line. 1st thought is there goes my chance at a Sail...Bad Luck Chuck strikes again. We continue on and put a few Mahi on the boat. Then the big hit happens again, I see the bill and head sticking out of the water, and I am first to grab the rod. Then 2 other lines go off with Mahi. My Sail gave us a show on 3 different occasions, and Beth got yelled at by the deck hand because she was trying to get a pic and needed to be boating the Mahi [8D].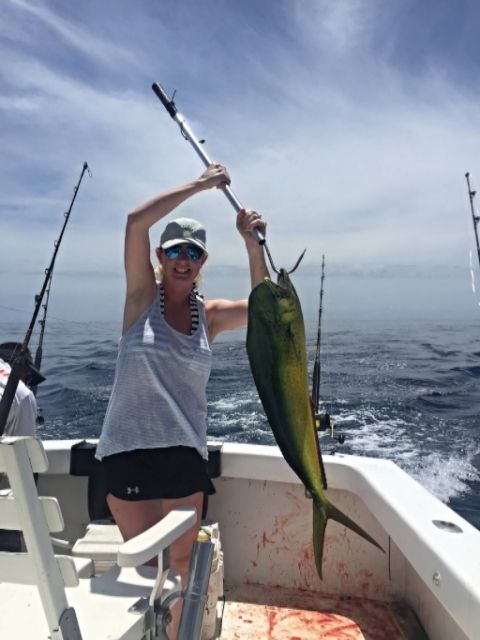 FINALLY! Checked off the list.
The Mahi bite got hot, and before we knew it we had a dozen Mahi and a Sailfish.
(1st few fish already cleaned in the box)
At that point we decided to bring in the lines and go after a Rooster Fish. We get the lines in, out riggers up, and had just started running toward the coast when the Captain backed down and started yelling from the tower. We look over and see 3 Sails on top of the water just swimming in a circle together. We abandon the Rooster Fish plan, put out 3 quick lines, and go for Sail #2. FISH ON!
This fish wet down fast and pulled off a lot of line [
].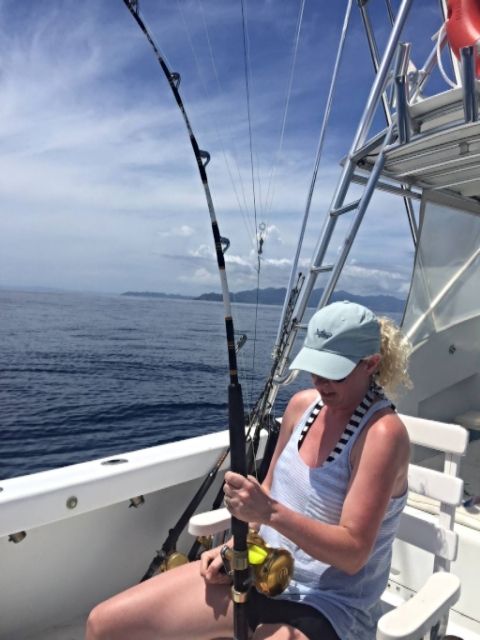 Beth got 1 too [8D]
It was hot, we had done what we set out to do, and Beth was whooped, so we decided to call it a day a little early. Drank some Cerveza Imperial, ate Mahi Ceviche,
and enjoy the sites of the beautiful coast as we cruise back to the resort. Where we were fishing we could see the coast of Nicaragua.
Beautiful country, beautiful clear/blue water, and great fishing made for an unforgettable anniversary trip. We billed it going in as the trip of a lifetime, but I really hope I get to go back.