My original plan was to spend the next year or two paying off bills and working on my 17 and then find a nice 228 to pick up. Well, that didn't really work out as planned...
Since selling my Grady in January, I have been itching to get back on the water. Yes, it was nice to just hop on a 32' Luhrs and spend the day with Mom and Dad, but that's just not the same as having your own rig. So, as I'm driving around on the Navy base where I work a few weeks ago, I noticed a familiar hull sticking out from behind a Sea Ray on the base "used car/boat/motorhome lot". I headed over to check it out. Just as I had suspected, it was a Formula 233. 1976 to be specific. Power was twin 140 Mercruisers. Trailer was a old tandem axle EZ-Loader that is actually in pretty good shape. She was a bit rough, but not bad for a 34 year old boat. Only problem was the price. $4500...quite a bit more than the check I got for the leave I had built up at the company I recently left. So, back to work I went.
A few weeks later, I stopped for another look. This time, the $4500 was crossed out and "OBO" was written next to it. That got my wheels turning. Called the guy a few days later and told him I had $1500 to spend for a running boat...and that I knew it was a long shot. He kindly rejected, told me he wanted at least $3000, and then we ended up talking for about an hour. Super nice guy. The conversation ended with the typical, "You have my number if you change your mind".
So, I kept thinking and thinking and hoping he would call me. Then it dawned on me that I just assumed he had caller ID...and didn't actually leave my number. Durr... So, I called him back and asked to take a closer look to see if it was really worth trying to convince the bank to give me more. He met me that day and agreed to my $1500 before I even said a word about price. Cool. [
]
We arranged to do a short sea trial a week or so later, but never made it to that point. Water in the gas. Engines wouldn't start. Exactly how much water was in there, we didn't know.
Long story short...new deal. $800 as is and I brought it home yesterday. [
]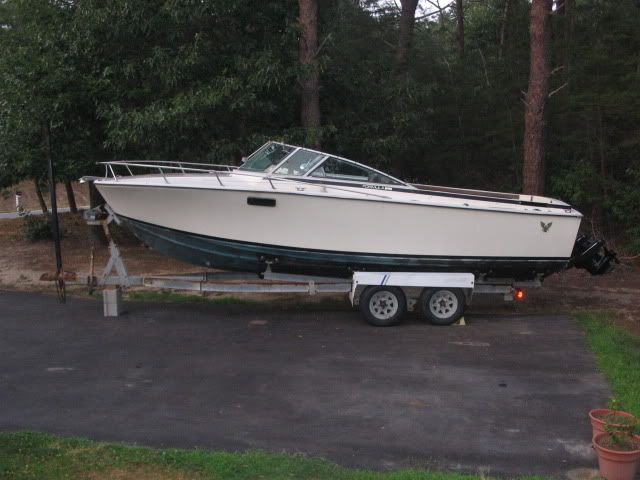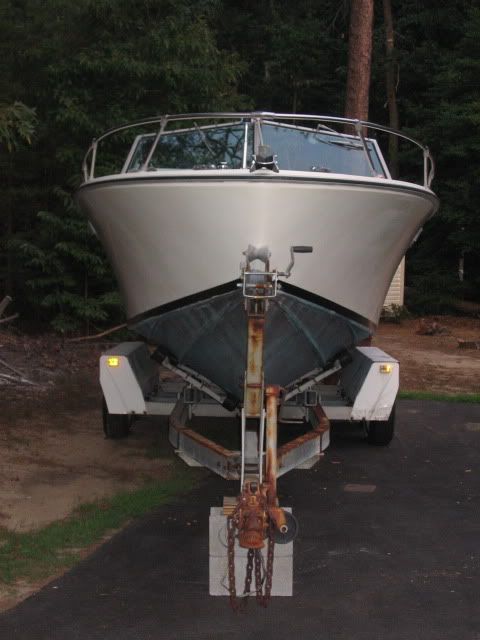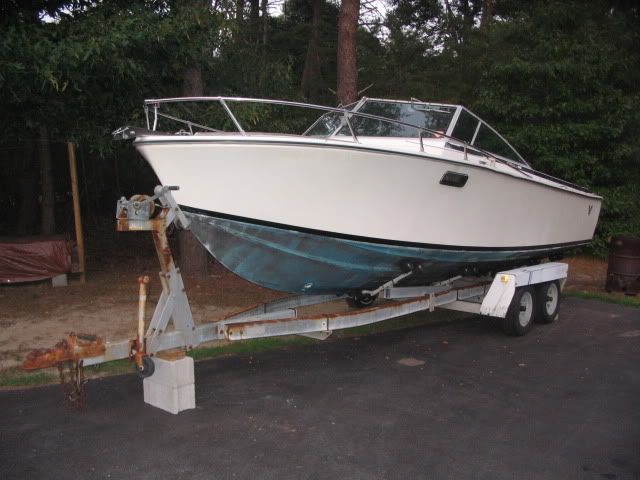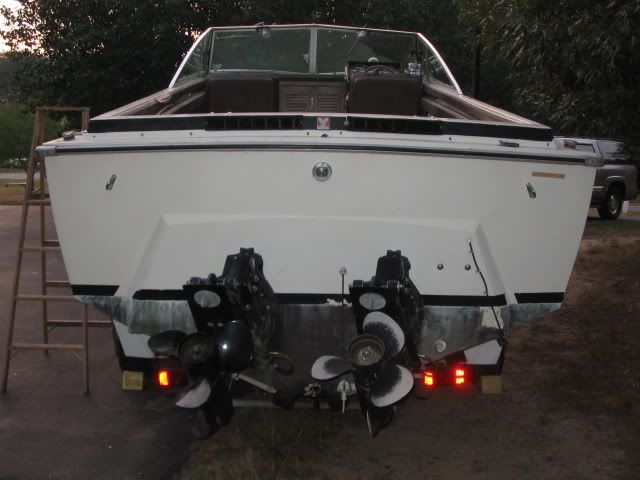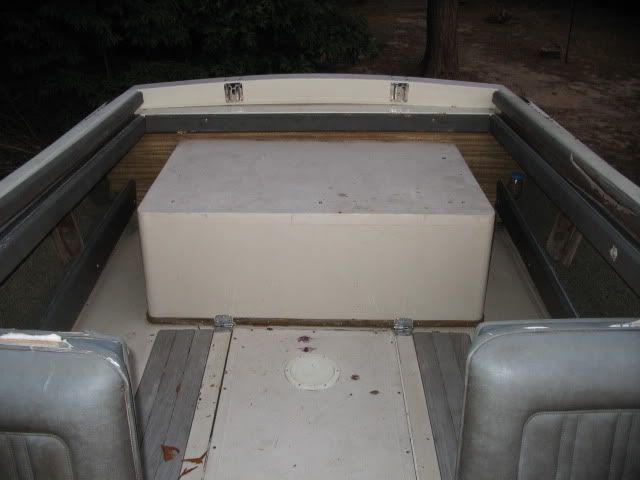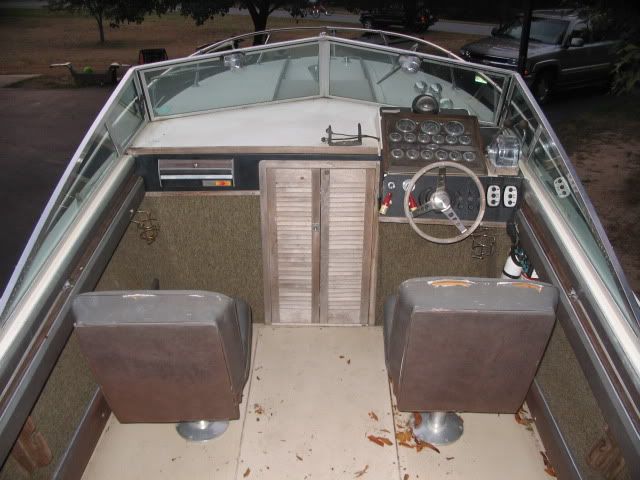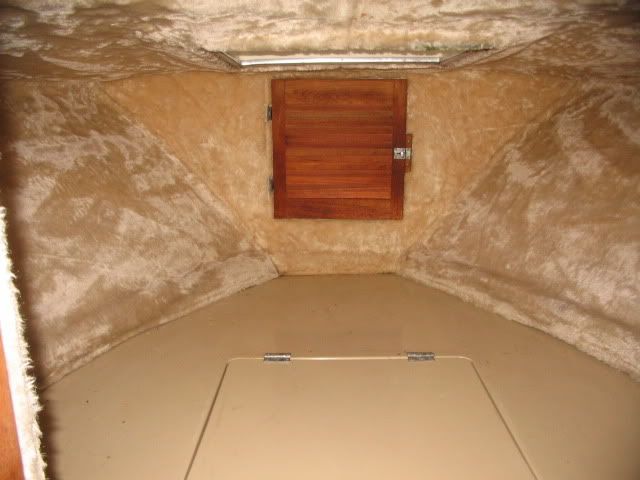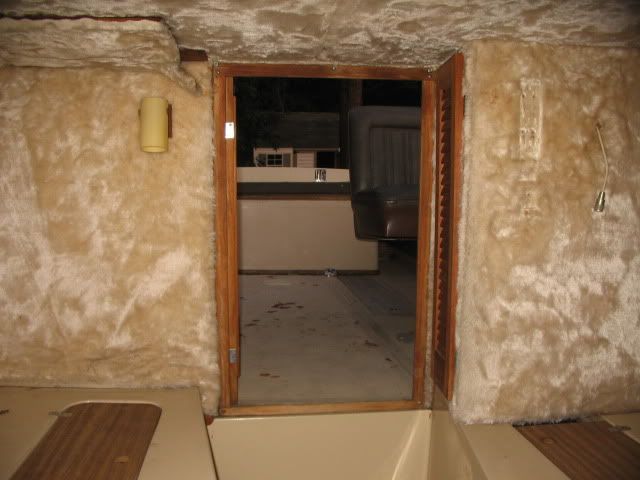 Now she has her fair share of issues, but for given what I paid, I'm not complaining. Transom core, the forward-most bulkhead and possibly some of the stringers have rot. Tank and lines are original. Motors have pretty even (although a bit low - I'm suspicious of my guauge) compression. Drives looks good. Floors are super solid, except for over the tank. No brakes on the trailer. 4 dry rotted tires. Needs a good bit of TLC and general maintenance. I wasn't looking for a pristine rig, so no big deal.
Plan is to get it up and running quickly because I promised my wife a working boat. She will just be an inshore cruiser/fisher for now. But once the 17 is done, there's no telling what will happen... [
]